President of the CCM 2nd Review Conference (2RC), H.E. Mr. Félix Baumann, Ambassador and Permanent Representative of Switzerland to the Conference on Disarmament, hosted an informal virtual briefing on 8 June 2020 to update the CCM community on the process towards the Review Conference.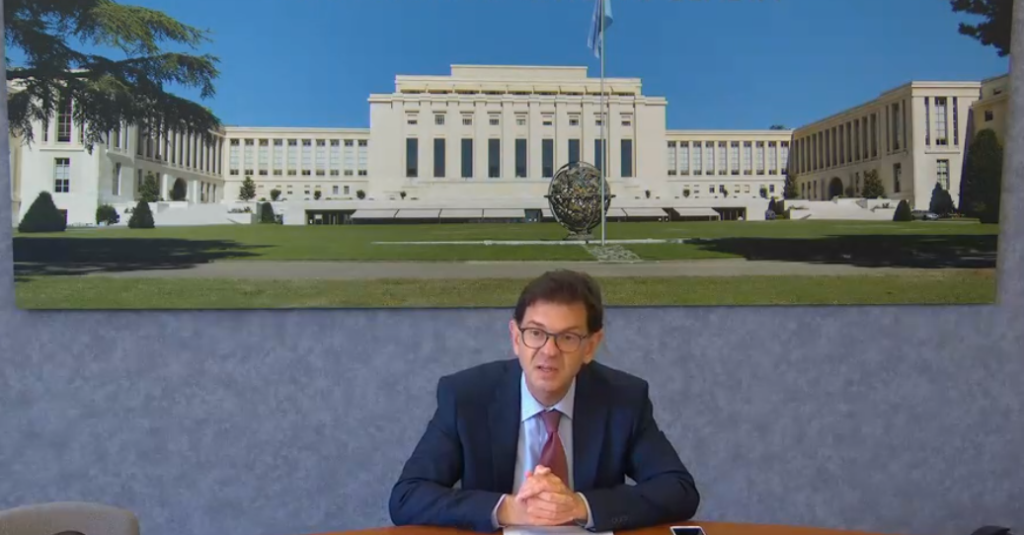 Ambassador Baumann informed that the First Preparatory Meeting would be an all-day meeting potentially on 29 June 2020 at the Palais des Nations in Geneva. In consideration of Swiss national guidelines on gathering and travel restrictions related to the COVID-19 situation, the First Preparatory Meeting of the 2RC that was scheduled for 8 June 2020 had to be postponed to a later date. A silence procedure to confirm the new date will be held this week. In keeping with national safety measures, options on the nature of this meeting were still being considered and would likely permit only one person per delegation or entity to attend the First Preparatory Meeting physically. To optimize inclusivity and productivity, the Meeting would be webcast for the benefit of those delegation members unable to be present in the conference room. Interpretation services in all six UN languages would also be made available for all participants.
During the briefing, the President provided an update on the three main documents of the 2RC: the Review Document, the Lausanne Action Plan (LAP) and the Political Declaration. He reminded that the first draft of the Review Document had already been circulated and that the numerous comments received on the Document were being incorporated. A revised version would be shared at a later date. A zero draft of the LAP was being developed by the presidency taking into consideration the comments provided by the CCM community and would serve as a basis for discussion at the First Preparatory Meeting. As the LAP will be a crucial tool for CCM implementation for the next five years, consultations on it would continue to be held up to the Second Preparatory Meeting scheduled for 4 September 2020. Elements of the Political Declaration would be presented ahead of the Second Preparatory Meeting for a substantial discussion during that Meeting. The three documents will be presented at the 2RC for adoption by CCM States Parties.
The First Preparatory Meeting would also start to consider institutional matters concerning the machinery of the Convention, implementation support and its financing as well as the financing of the Convention. The President assured that the Programme of Work would be circulated as soon as possible.
Ambassador Baumann was pleased to announce that the 2RC would be convened at the SwissTech Convention Center from 23 to 27 November 2020 in Lausanne, Switzerland. He stated that the presidency, in partnership with the Geneva International Centre for Humanitarian Demining (GICHD), would launch a public photo exhibition in August to showcase the impact of cluster munitions. The exhibition would take place in several cities around Switzerland.