President of the 2nd Review Conference (2RC) of the Convention on Cluster Munitions, H.E. Mr. Félix Baumann, Ambassador and Permanent Representative of Switzerland to the Conference on Disarmament in Geneva, with the support of the Implementation Support Unit (ISU), organized a closed meeting in the margins of the 23rd International Meeting of National Mine Action Programme Directors and UN Advisers (NDM-UN 23) on 14 February 2020 at the Palais des Nations. The aim of the side event was to provide a platform for Signatory States and States not Party to the CCM to discuss challenges and possible solutions to joining the Convention in the lead up to the 2RC.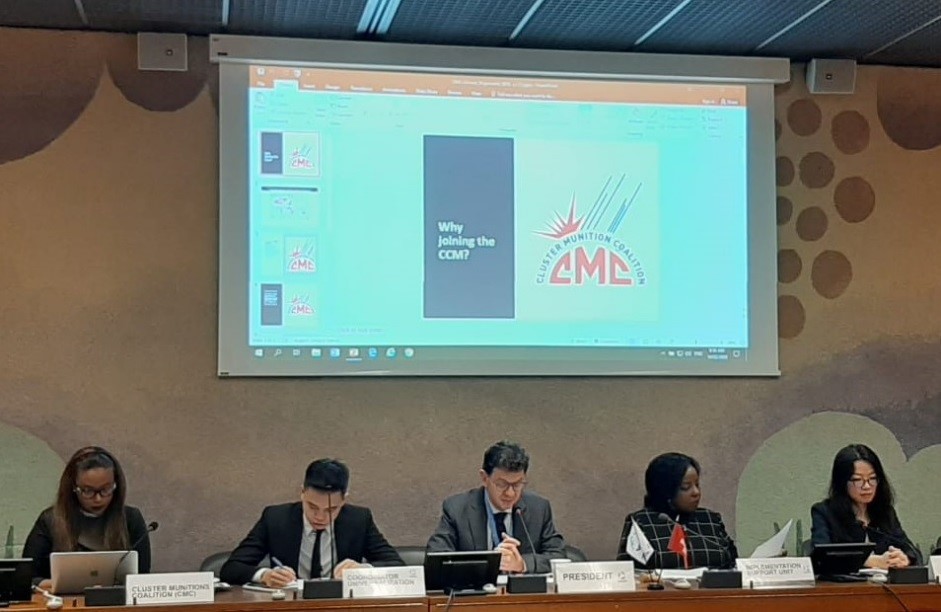 Ambassador Baumann who moderated the meeting delivered the welcoming remarks wherein he highlighted the importance of advancing the implementation of the provisions of the Convention. The President also gave an outline of the Swiss presidency's objective and strategy to promote CCM universalization in the lead up to the 2RC. This was followed by presentations by the panellists which included the ISU Director, Ms. Sheila N. Mweemba, Ms. Diana Prado of the Cluster Munition Coalition (CMC), and Ms. Wen Zhou of the International Committee of the Red Cross (ICRC). A lively exchange ensued among the participants on obstacles countries were facing in ratifying or acceding to the Convention as well as ideas on enhancing its universalization. The event gathered 19 participants from 7 CCM member states and 6 non-member states.
To date, 121 States have committed to the goals of the CCM, 108 as States Parties and 13 signatories. The Dubrovnik Action Plan adopted in 2015 outlined the Convention's aim to achieve 130 States Parties by the 2RC that is scheduled to take place in November 2020.