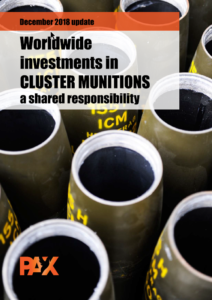 PAX and the Cluster Munition Coalition released the 2018 Worldwide investment in cluster munitions report on 3 December 2018. Some of the key findings in the latest report are:
46 States are taking steps to outlaw investments in cluster munitions, with 11 of them having adopted specific legislation that prohibits investment in cluster munitions
2 arms manufacturers have completely terminated their production and delivery of cluster munitions
Investment in cluster munition has dropped from USD 31 billion in 2017 to USD 9 billion in 2018
The number of financial institutions publicly excluding cluster munition producers notably increased: the updated report identifies 110 compared to 22 in last year's report
The number of financial institutions reported to have invested in cluster munition producers have decreased from 166 in 2017 to 88 in the 2018 report
For the full report, please click here.
For the New York Times article on the report, please click here.