10 years ago at the Oslo City Hall, the Convention on Cluster Munitions was opened for signature on 3 December 2008. Over the course of 2 days, 94 States signed the treaty; 4 of which, the Holy See, Ireland, Norway and Sierra Leone, also submitted their instruments of ratification immediately.
United Nations Secretary-General Ban Ki-moon, in his speech delivered at the Signing Conference on 3 December said:
"The conclusion [of this convention] indicates a significant and fundamental change in the position of many governments that, until recently, regarded cluster munitions as essential to their security policies and military doctrines. The importance of this shift cannot be overemphasised."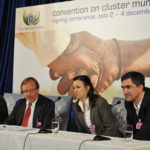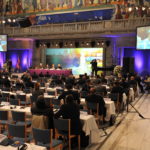 The following video is on the signing ceremony of the Convention on Cluster Munitions:
The photos and video in this post are courtesy of the Cluster Munition Coalition.