The Democratic Socialist Republic of Sri Lanka, in its role as the Presidency of the Ninth Meeting of States Parties (9MSP), organized a lunchtime meeting at the UN Headquarters in New York on the universalization of the CCM with a focus on the Asia/Pacific region. This side event took place on Friday, 12 October 2018, in the margins of the 73rd session of the UN General Assembly First Committee on Disarmament and International Security and gathered States Parties and States not Party to the Convention from the Asia/Pacific region as well as from other regions.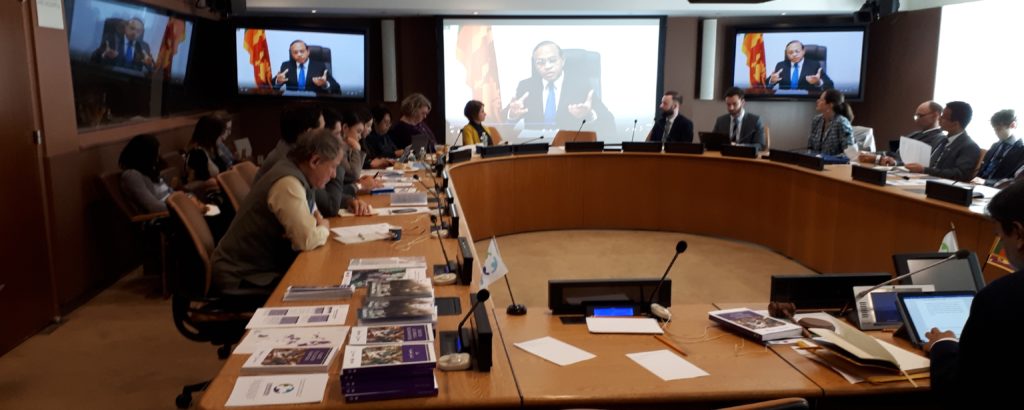 9MSP President, Ambassador Aliyar Lebbe Abdul Azeez, Permanent Representative of Sri Lanka to the United Nations in Geneva, warmly welcomed the attendees via video conference in Geneva and presented the Presidency's key priorities until the 9MSP. The President also introduced the 2018 UNGA Resolution on the implementation of CCM, which would be submitted by Sri Lanka and its co-sponsors. It is anticipated that States attending the meeting would vote in favour of the Resolution.
During the meeting, the CCM Implementation Support Unit (ISU) presented an overview of the Convention, with a particular emphasis on the tools and assistance available to States in their ratification/accession and further implementation of the CCM. States were afforded the opportunity to share on the obstacles they had encountered in the process of ratification of/accession to the CCM. Representatives of the ICRC and CMC also participated in the side event. In order to facilitate a candid discussion on addressing these challenges, the meeting was held under the Chatham House Rule.
Click here to view the programme of the meeting.