On Tuesday 29 November, at a side event during the 15th Meeting of States Parties of the Anti-Personnel Mine Ban Convention (APMBC) in Santiago, the Convention on Cluster Munitions (CCM) Coordinators for 2016 and 2017 on Victim Assistance (Australia, Chile and Italy) and International Cooperation and Assistance (Austria, Iraq and Australia) launched the publication Guidance on an Integrated Approach to Victim Assistance.
The side event was held jointly with the Victim Assistance Committee of the APMBC, which also launched a publication, Guidance on Victim Assistance Reporting in parallel.  The joint event demonstrated the complementarity of efforts to implement commitments on victim assistance under the CCM, the APMBC and Protocol V of the Convention on Certain Conventional Weapons (CCW), and that it is possible to develop common approaches to victim assistance issues across the conventions, with the ultimate aim of helping States to improve the quality of life and uphold the rights of victims.
The disarmament community has long understood that it is essential to realize victim assistance obligations through both specific initiatives, and broader development, human rights, and humanitarian efforts, in order to ensure sustainable support for victims.  The need to fulfil victim assistance obligations within broader plans, policies and frameworks is codified in the CCM and reflected in the CCW Protocol V Plan of Action on Victim Assistance, the APMBC Maputo Action Plan and the CCM Dubrovnik Action Plan.  This dual approach is called an integrated approach to victim assistance and is rooted in the human rights principle of non – discrimination promoted by the CCM and in the frameworks of the APMBC and CCW Protocol V.
Ideally, realising victim assistance obligations through broader efforts should make specific victim assistance efforts unnecessary.  However, while specific victim assistance efforts have been shown to adhere to the principle of non-discrimination by benefiting survivors, other persons with disabilities and indirect victims alike, there is little evidence as to whether survivors and indirect victims are being reached through relevant efforts undertaken within broader frameworks.  Victim assistance-specific efforts should be maintained until evidence is produced to show that victims benefit on an equal basis with others from broader efforts.
It seems that while both affected and donor States understand the need for this dual approach in principle, its implementation is complex and requires guidance.
To this end, the CCM Coordinators on Victim Assistance and International Cooperation and Assistance for 2016 and 2017, assisted by Handicap International and with funding provided by the Australian Government, led a multi-stakeholder process in 2016 to develop Guidance on an Integrated Approach to Victim Assistance, for both affected and donor States.  The process involved collection of input on national experiences in implementing an integrated approach to victim assistance through a questionnaire, a workshop and an online consultation.  Participants in the process included States Parties to the APMBC and CCW Protocol V, as well as the CCM, and representatives of survivors and a range of international and non-state organisations.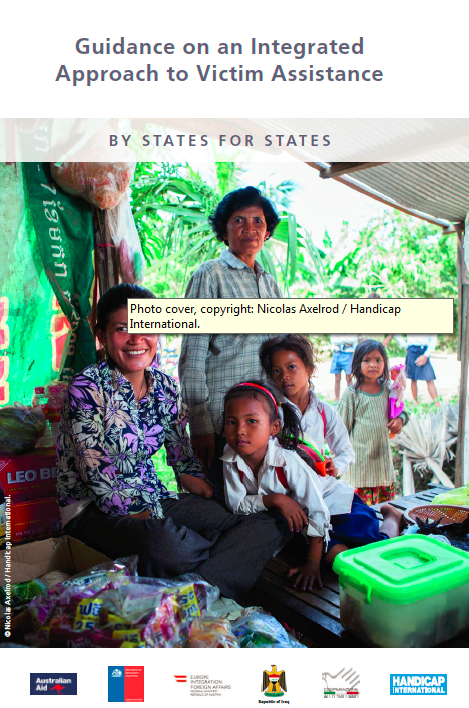 From the input received, a range of good practices and national examples of effective implementation by both donor states and affected states were identified, collated and finally published as the Guidance on an Integrated Approach to Victim Assistance.  The Guidance is intended to be equally useful in the implementation of the victim assistance commitments set out in the CCM, APMBC and CCW Protocol V.
An electronic version of the Guidance is available here. Hard copies of the Guidance can be obtained from the CCM-ISU or Handicap International.