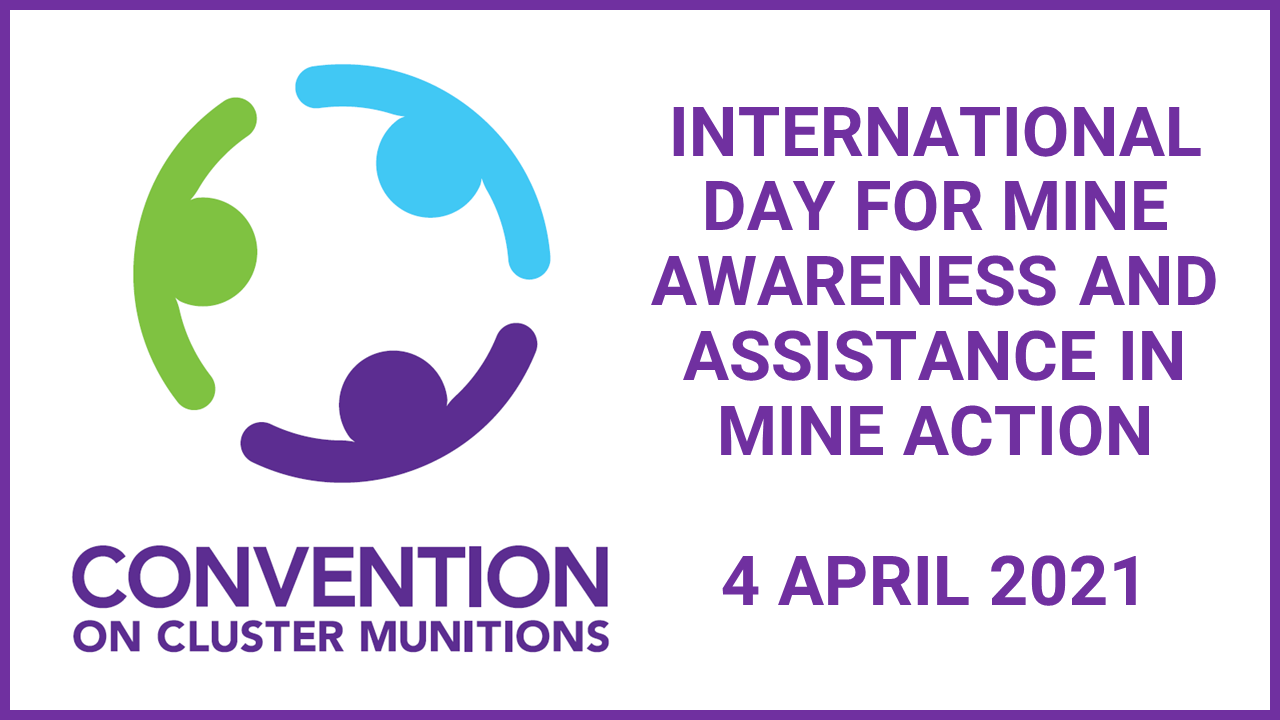 International Day for Mine Awareness and Assistance in Mine Action is an opportunity to raise awareness on the tremendous humanitarian and development problems caused by mines, cluster munitions and other explosive remnants of war, as well as the importance of cooperation and coordination in mine action towards a world free from the threat of these weapons.
It is also an opportunity for the CCM community to reflect on the achievements made in the implementation of the Convention since its adoption (30 May 2008), signature (3 December 2008) and entry into force (1 August 2010). The following is a brief overview of the state of implementation as at 4 April 2021 as outlined by the Vientiane Action Plan and the Dubrovnik Action Plan.
Universalization
States Parties: 110
Signatory States: 13
States not party: 74
Click here for the universalization status map and list at 4 April 2021.
Stockpile destruction (Article 3)
Number of States Parties that reported to have obligations (41):-
Completed stockpile destruction: 36
With current obligations: 5
99% of the total global cluster munitions stocks declared by States Parties have been destroyed.
The first deadlines for States Parties with stockpile destruction obligations were in 2018 and to date only 2 States Parties have requested for an extension of their initial deadlines under Article 3.
Click here for an overview of stockpile destruction completion and deadlines.
Clearance and risk reduction education (Article 4)
Number of States Parties that reported to have obligations (17):-
Completed clearance of contaminated land: 7
With current obligations: 10
Over 500 square kilometres of cluster munition contaminated land has been cleared. The first deadlines of States Parties with clearance obligations was in 2020. 5 States Parties have requested for an extension of their deadlines under Article 4.
Click here for an overview of clearance completion and deadlines and for the current cluster munitions contamination map.
Victim assistance (Article 5)
Currently, 11 States Parties have obligations under Article 5, all of which have designated a national focal point to coordinate assistance to cluster munition victims.  During the past 10 years, there has been increased efforts in working across conventional weapons treaties (CCM, APMBC and CCW) in promoting an integrated approach to victim assistance. The Guidance on an Integrated Approach to Victim Assistance was published in 2016.
In 2020, a database of the National Focal Points of States Parties with cluster munition victims was developed.
International cooperation and assistance (Article 6)
In 2017, the Country Coalitions concept was adopted by States Parties to the Convention as a means to enhance international cooperation. A country coalition is an institutionalized national platform created by a State Party with obligations under the Convention together with a donor country (or countries) and other partners in order to promote a more comprehensive approach to the State Party's specific challenges. Its aim is to enhance dialogue and coordination between the State Party, donors and operators or other implementing partners.
To date, 3 country coalitions (1 in Africa, 1 in the Middle East and 1 in Europe) have been established. Two of these partnerships resulted in the affected State Party complying with Convention obligations within the stipulated deadline and have since been concluded.
Transparency measures (Article 7)
Transparency reporting is an obligation for all CCM States Parties and currently 99 out of 107 States Parties that should have submitted their initial reports have done so. Annual reporting rates have been steady at an average of 75% compliance over the last ten years.
Click here for the UNODA database of Article 7 reports.
National implementation measures (Article 9)
61 States Parties have undertaken appropriate national legal measures to include penal sanctions

12 have enacted national law prohibiting investments in cluster munitions
23 are in the process of reviewing or adopting national legislation to implement the CCM
53 have undertaken administrative and other (non-legal) measures in place to implement the CCM domestically