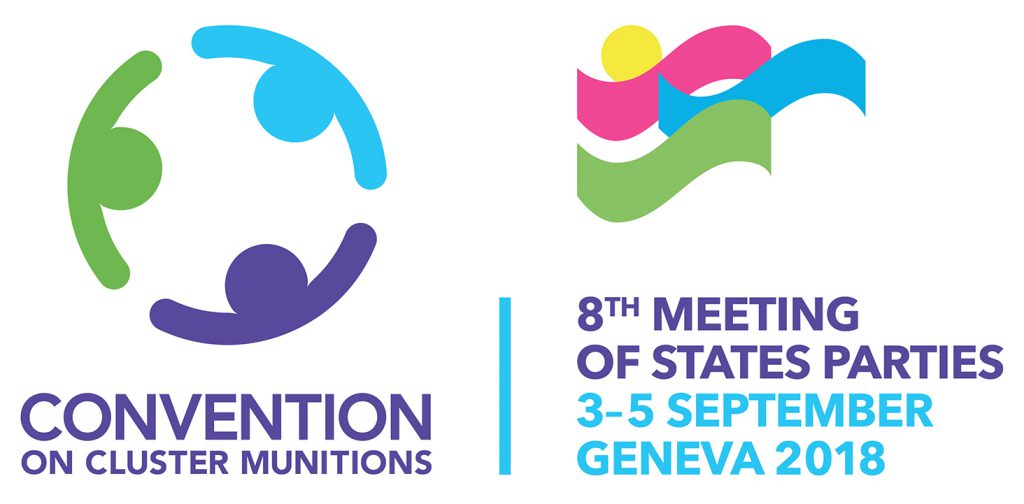 DATE AND VENUE
The Eighth Meeting of States Parties (8MSP) to the Convention on Cluster Munitions (CCM) will be taking place 3-5 September 2018 in Room XVIII at the Palais des Nations in Geneva, Switzerland.
INVITATION
The 8MSP was convened by Note Verbale: English – Français – Español
An invitation letter was also addressed to relevant International Organizations.

REGISTRATION
1. The details of delegations to the 8MSP should be submitted by Note Verbale by Friday, 17 August 2018, to the Secretariat of the 8MSP at the following address:
Office for Disarmament Affairs, Geneva Branch
United Nations Office at Geneva
Palais des Nations, room C.117
CH-1211 Geneva 10
Fax: +41 22 917 0034
E-mail: ccm@un.org
Website: www.unog.ch/ccm
2. Online registration:  If you do not already have a United Nations grounds pass, you need to register for the 8MSP in the online indico system. Please note that you will need to attach the note verbale or letter, including your name on the list of your delegation, as a mandatory document while registering on-line. If you forget to attach the requested document, the system will reject your registration. Instructions are available for reference. Please check the UNOG website for detailed information.
NEW! SIDE EVENTS SCHEDULE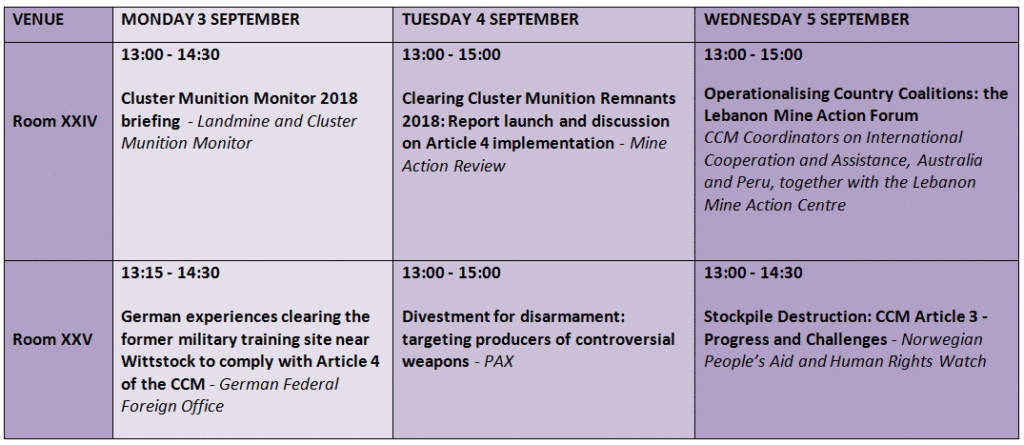 OFFICIAL DOCUMENTS
CCM/MSP/2018/1 – Provisional Agenda
CCM/MSP/2018/2 – Implementation Support Unit 2019 Work Plan and Budget
CCM/MSP/2018/WP.1 – Guidelines for the Convention On Cluster Munitions (CCM) Article 3 Extension Requests – submitted by Bosnia-Herzegovina
CCM/MSP/2018/WP.2 – Guidelines for The Convention On Cluster Munitions (CCM) Article 4 Extension Requests – submitted by Bosnia-Herzegovina

CCM/MSP/2018/WP.3 – Establishment of a Process for the Selection of the Presidency of the Convention on Cluster Munitions – submitted by Germany
CCM/MSP/2018/WP.4 – Draft – Article 3 Declaration of Compliance, submitted by Croatia and Mozambique
| | | | | | |
| --- | --- | --- | --- | --- | --- |
| | | | Français | русский | Español |
CCM/MSP/2018/3 – Provisional annotated programme of work
CCM/MSP/2018/4 – Rules of Procedure
CCM/MSP/2018/5 – Convention on Cluster Munitions Eighth Meeting of States Parties (8MSP) Progress Report — monitoring progress in implementing the Dubrovnik Action Plan
CCM/MSP/2018/6 – Convention on Cluster Munitions Implementation Support Unit – 2017 Annual Report
CCM/MSP/2018/7 – Estimated costs of the Ninth Meeting of States Parties of the Convention on Cluster Munition