The Ninth Meeting of States Parties (9MSP) elected H.E. Mr. Félix Baumann, Ambassador and Permanent Representative of Switzerland to the Conference on Disarmament, as President of the Second Review Conference (2RC). The 9MSP also decided to convene two meetings in preparation for the 2RC, a full day each in Geneva on 8 June and 4 September 2020.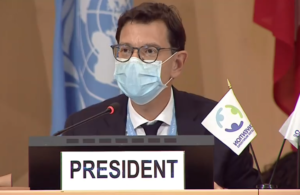 Due to the COVID-19 situation, States Parties agreed that the First Preparatory Meeting be postponed to 29 June 2020. The Meeting was held that day at the Palais des Nations under national precautionary measures that limited the number of participants per delegation and required every person in the conference room to wear a face mask. For the benefit of those not able to be present in the room, the First Preparatory Meeting was webcast in all six official languages of the United Nations. The video recordings are available on UN Web TV: Part I and Part II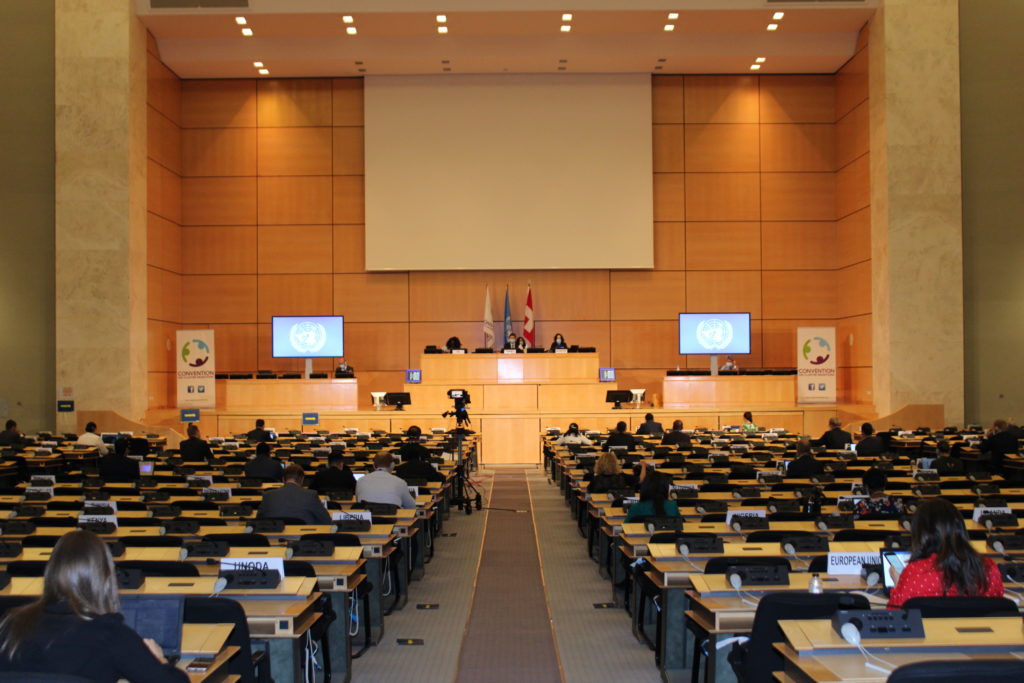 All conference documents, including the Final Report and the List of Participants, can be found on the UNOG web page for the Meeting.
MONDAY 29 JUNE 2020
Opening of the Meeting
President of the Second Review Conference (2RC), H.E. Mr. Félix Baumann, Ambassador and Permanent Representative of Switzerland to the Conference on Disarmament gave the opening address
CCM/CONF/2020/PM.1/1 – Provisional agenda

CCM/CONF/2020/PM.1/WP.2 – Draft provisional agenda for the Second Review Conference
CCM/MSP/2010/3 – Rules of procedure 
Vice-Presidents of the 2RC
The Netherlands, Germany, Nicaragua and Sri Lanka were recommended as Vice-Presidents of the 2RC
Exchange of views on the preparation of documents for the Second Review Conference:
(a) Review of the operation and status of the Convention 2016-2020
CCM/CONF/2020/PM.1/WP.3 – Draft Review Document of the Dubrovnik Action Plan

Chile
European Union
Italy
Colombia
Mexico
The Netherlands
New Zealand
Lebanon
Japan
Germany
Lao PDR
Belgium
Ireland
Spain
Austria
(b) Lausanne Action Plan
CCM/CONF/2020/PM.1/WP.4 – Elements for the Lausanne Action Plan
Ecuador
Italy
The Philippines
Norway
The Netherlands
UNMAS
ICRC
Colombia
Cross-cutting elements
United Kingdom
Chile
Mexico
The Netherlands
GICHD
CMC
Sweden
Japan
Australia
Belgium
Universalization
Italy
United Kingdom
Switzerland
Japan
Germany
Spain
The Philippines
Mexico
Lithuania
Sweden
Chile
Austria
ICRC
CMC
Stockpile destruction
The Netherlands
ICRC
CMC
Survey and clearance
Colombia
United Kingdom
Switzerland
Chile
Sweden
The Netherlands
CMC
GICHD
ICRC
Risk reduction education
United Kingdom
Colombia
ICRC
Sweden
CMC
Victim assistance
Colombia
Italy
United Kingdom
Chile
Mexico
ICRC
CMC
International cooperation and assistance
Colombia
Italy
United Kingdom
Peru
The Philippines
Chile
Switzerland
The Netherlands
Sweden
Montenegro
GICHD
Transparency measures
Iraq
Colombia
Mexico
Switzerland
United Kingdom
The Netherlands
Chile
GICHD
National implementation measures
New Zealand
ICRC
CMC
Possible additional section on general implementation and
the machinery
Italy
CMC
Chile
(c) Lausanne political declaration
(d) Implementation support
CCM/CONF/2020/PM.1/WP.5 – Elements for discussion on institutional aspects of the Implementation Support Unit
United Kingdom
Italy
The Netherlands
New Zealand
Germany
Status of assessed contributions to the Second Review Conference
UNODA gave an update on the level of contributions to the Second Review Conference
Updates on logistical and administrative matters
The 2RC President reminded the CCM community of the upcoming Second Preparatory Meeting and the Review Conference
Other matters
The ISU Director gave an update on the CCM Sponsorship Programme
Consideration and adoption of a procedural report of the Meeting

CCM/CONF/2020/PM.1/2 – Final report